This is your opportunity to put your skills to work for a good cause! Join #C4H for the 2022 Houston Hackathon!
Work on projects & learn about Houston! All skills welcomed!
To celebrate the National Civic Day of Hacking, we invite all people who want to make a difference in our region to join us at the annual Houston Hackathon! This is a "civic" hackathon, focused on ideating, designing, and developing both policy-based and tech solutions to some of Houston's greatest challenges. Project stakeholders will be there from the city, local organizations, and Houston's impact community!
We envision a more equitable, inclusive, and sustainable economy, where people are empowered with the skills, capacity, and resources they need to take action. We invite you to be a part of this vision by participating in this annual opportunity to develop systemic and transformative solutions for Houston – solutions that are rooted in local communities so that they are as diverse as Houston, and work for ALL of Houston.
The Houston Hackathon is an opportunity for people with different skills to collaborate on projects to improve life in Houston. Don't think you've got what it takes to hang? That's simply not true. We'll help you get oriented.
Houston Hackathon Schedule // Sept 17-18 ; Winners Announced Sept 26!
Sept 17 @10:00AM — Houston Hackathon 2022!! In person group session will wrap up at 5PM and then, teams can continue working remotely through the weekend.
Sept 18 @11:45PM — Project Submissions Due on DevPost
Sept 19 – Sept 23: Judges will review submissions on DevPost and submit their rankings.
Sept 23: Next Steps with SBA — What is the SBIR/STTR and how to apply?
Sept 26: Winners Announced!!
SIGN UP ON DEVPOST: https://houstonhackathon2022.devpost.com/
JOIN THE SLACK: https://codeforhou.slack.com/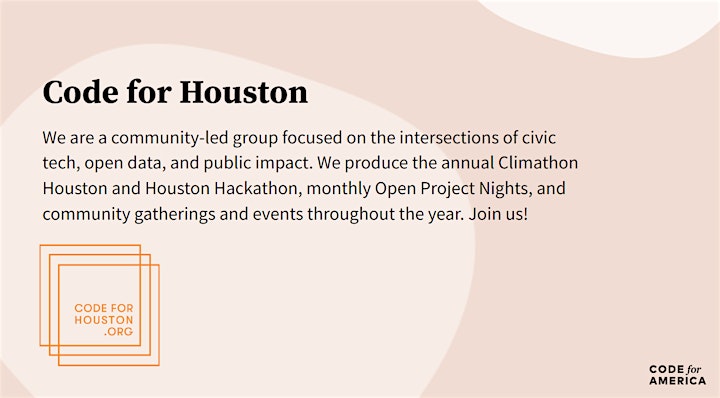 Code for Houston Brigade Code of Conduct / Código de Conducta
Thank you to our sponsors: